Elena Skvortsova will also represent the Americas on the Management Board of Messer SE & Co. KGaA


Bridgewater, N.J., U.S., November 20, 2023 – Messer, the world's leading privately owned specialist for industrial, medical and specialty gases, appointed Elena Skvortsova as President and Chief Executive Officer of the Americas region, effective November 14. Skvortsova also joins Messer's Management Board as Chief Operating Officer of the Americas. She succeeds Jens Luehring, who exited the company upon Messer's completion of the acquisition of Messer Industries, the joint venture with CVC Capital Partners.
With an accomplished career spanning 30 years in oil, gas & petrochemicals, industrial gases, pharma, biotech and medtech, Skvortsova brings a wealth of experience in business development, customer-focused marketing, digital and organizational transformation, and financial growth, and a proven track record of exceptional leadership and operational expertise at multi-national corporations. Before joining Messer, Skvortsova worked in the industrial gases sector, serving as President, Middle East & Eastern Europe at Linde AG in Munich before taking over responsibility for Praxair's Canadian business following the merger of Linde and Praxair. She most recently served on the Executive Board of OMV AG in Vienna, Austria, where she was instrumental in helping the company develop and implement its sustainability strategy – launching sustainable road and aviation fuels, introducing digital solutions in the retail fuel markets, and laying the foundation for the e-mobility business.
"Elena is a distinguished and experienced executive who has led organizations globally, has a deep understanding of our industry and demonstrated ability to drive sustainable growth and value creation. Her laser focus on customers, talent development and operational rigor are exactly what Messer needs as the company enters the next chapter of its 125-year corporate history as a global force," said Bernd Eulitz, CEO of Messer. "I look forward to working with Elena and partnering with our executive team and our new strategic partner, GIC, to take our company forward into a new era."
Skvortsova also shared her excitement about the new role:
"I appreciate the trust of Messer's leadership and shareholders and am honored to come on board and lead the Americas business as we focus on delivering further growth through innovation, expansion, and collaboration with customers. I am excited to work alongside the talented Americas team that has made extraordinary contributions to the Messer legacy in only a few short years," said Skvortsova. "Our industry is one of the most resilient there is because our products and services are essential for so many critical sectors that people around the world depend on every day. I step into this role with great optimism for the future of Messer as we continue to serve our customers safely, dependably and reliably, driving long-term sustainable value."
Skvortsova studied international management, communication, and linguistics and began her professional career in 1994 at Bayer AG in Germany. She moved to the United States with Bayer in 1997 and in 2001 joined Baxter International Inc., where she worked until 2015 in roles of increasing responsibility, culminating in her appointment as Vice President, BioScience. She joined the industrial gases sector with Linde in 2015.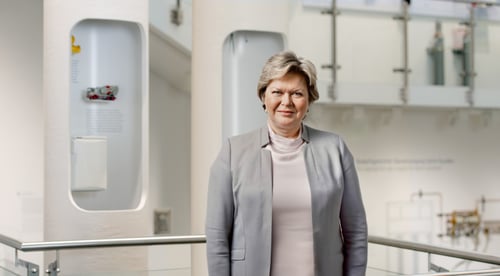 Elena Skvortsova, Americas President and CEO
About Messer Americas
Messer is the largest privately held industrial gas business in the world and a leading industrial and medical gas company in North and South America. Messer offers 125 years of expertise in industrial, medical, specialty and electronics gases. The company delivers quality gases, related services and technology via an extensive production and distribution network. Health and safety, sustainability practices and environmental protection are core Messer values that are embedded in the company's daily operations.


Messer Americas is part of the Messer SE & Co. KGaA, representing an approximately $4.4 billion USD enterprise with presence in the Americas, Europe and Asia. For more information, visit www.messeramericas.com.