At Messer Americas, Corporate Responsibility represents a core value for our business. We responsibly manage our resources and apply the talents of our employees to positively benefit society and our communities. Our business decisions and actions demonstrate our commitment to the triple bottom line of long-term financial, social and environmental sustainability. As part of the world's largest privately held industrial gases company in the world, we act sustainably to meet the needs of our customers in accordance with our collective responsibility for people, progress and the environment.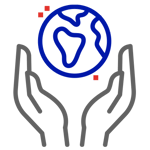 Environmental Guidelines
Messer Americas (Messer) has established an integrated HSE (Health, Safety, and Environment) Policy (Messer Americas HSE Policy). The environmental elements covered by this policy conform to the policy requirements of ISO14001 while establishing a framework for setting environmental objectives and targets. Messer HSEQ guidelines form an integrated standard reflecting our commitment to environmental protection.


Social Responsibility

Our Philosophy
Messer is committed to doing our part to positively impact the communities where we live and work. Through employee volunteerism and charitable giving, we work together with non-profit organizations and local schools to make a difference in our communities, with focus on Safety, Health, Education and the Environment. In addition, we take seriously our role as a responsible employer and economic contributor to our communities, providing well-paying jobs, contributing our share of local, state and federal taxes, and providing essential gases and services for hospitals, manufacturers and customers representing a range of consumer markets, from food & beverages to electronics.


Safety
At Messer, Safety is a core value. We are committed to the safe and reliable production, handling, transport and use of our products, with a vision of zero harm to people, society and the environment. We strive to continually improve the quality and safety of our products and services. Our integrated management system helps us achieve these goals by embedding health, safety, and environment into our daily operations.


Code of Conduct
At Messer, we strive to always act with a high degree of integrity and reliability in everything we do. Since the inception of our company, Messer has valued responsible behavior towards people and the environment, and compliance with the law, as cornerstones of the way we do business.